weightless hydrating facial cream
2 fl. oz. (60 mL)
regular price
sale price
$19.00 USD
unit price
per
sale
sold out
thanks for signing up for restock notifications!
there was an error signing up for restock notifications. please try again.
out of stock
view full details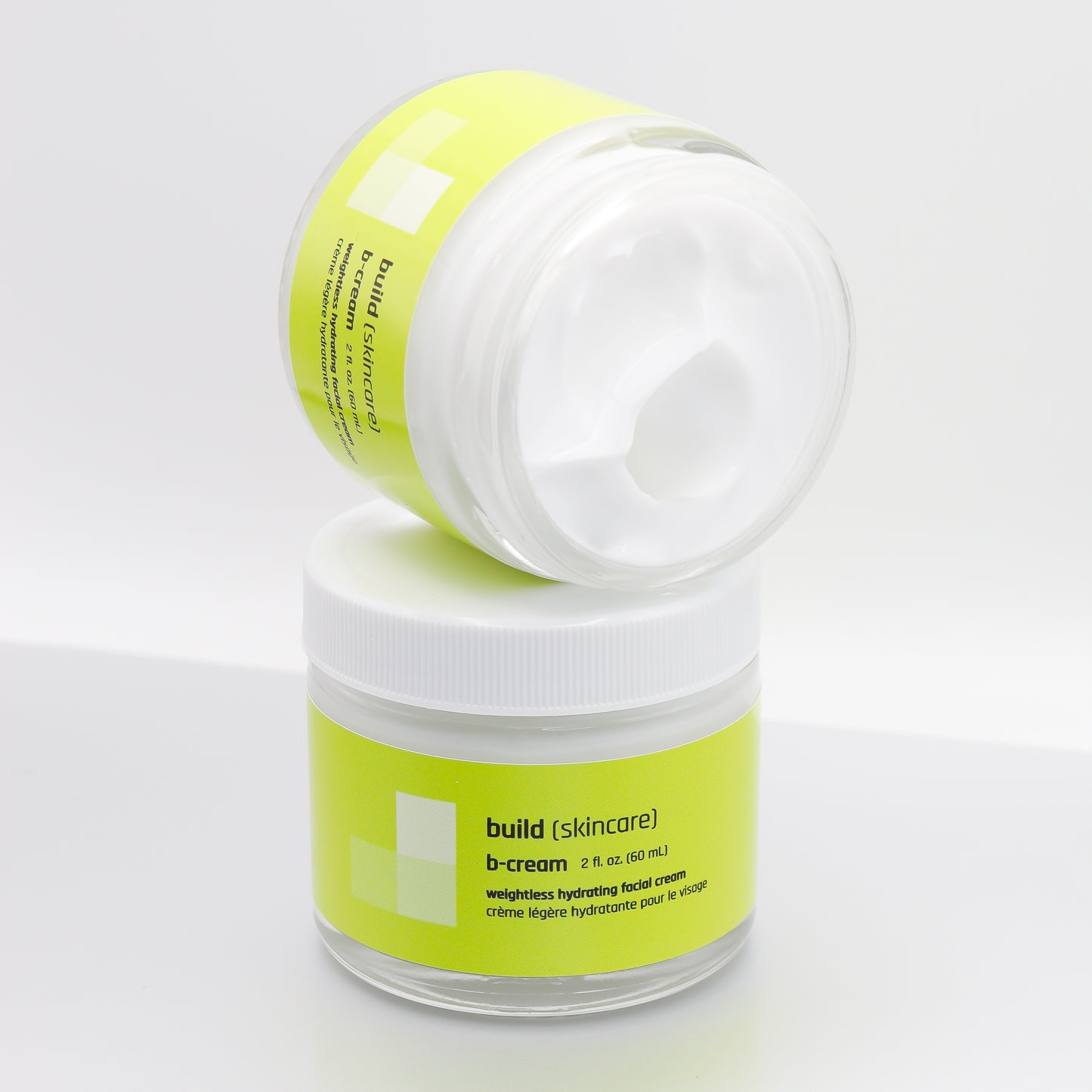 lightweight and comfortable
the texture and feel of this moisturizer is personally one i've never experienced before. it's such a light and nonsticky cream, i really enjoy it! my bf who refuses to use moisturizer for that reason likes it as well and won't fight with me when i try to apply it like other moisturizers lol. hydrates the skin well without that tacky feeling and absorbs quickly
Great product dodgy packaging
The B cream is such an amazing moisturiser and absorbs so nicely. It has really made my skin so nice. I would just maybe suggest having a branded packaging on the delivery box as mine was open from customs and they never resealed the box properly. So when I open the moisturiser there's no seal so I don't know if it's been tampered with. Being a beauty product I would assume that it would need some sort of seal on the jar itself, which mine didn't.
oops! thanks for the advice - we'll look into it! glad to hear you enjoy the product despite the issues with customs.
You'll never need another moisturiser
B-cream is phenomenal. I've paid the price of going nah, I won't moisturise for a while I can't be bothered, only for my skin to hate me and become dry. All it takes is using B-cream once and my skin forgives me. I wake up with my skin feeling soft and plump. Hands down the best moisturiser, and best brand philosophy. You'll never need another moisturiser (unless it's B-Balm)
Build is that

****

.

I have tried a lot of different moisturizers and the always sting a bit when I'm sensitive. The b-cream from build doesn't sting at all! Even when my skin is freaking out. It's very lightweight while still being moisturizing.
Build does everything right
I have yet to be disappointed by this brand. They truly knock it out of the park every single time! This is a moisturizer that feels so light, but still moisturizing. It is summertime currently so I do get a bit oilier than winter but I am loving it. At night I mix it with the balm and it still manages to not be heavy. It is a nice silky texture that leaves skin feeling soft. I'm sure I will enjoy it come fall/winter as well. It seems to play well with every product I have. I am enjoying it very much so far!
Thank you so much! b-cream is a testament to good basic skincare ingredients. A nice blend of glycerin + petrolatum + squalane can lend to a beautifully light but still very hydrating and moisturizing formula!